 CCTV NETWORK VIDEO SERVER
Network video servers, also known as IP video servers, turn any CCTV camera (with a standard BNC output) into a network security camera (Ethernet/CAT-5 output).
The purpose of network video servers is to translate the analog signal from CCTV cameras into a digital and IP-based video stream capable of being broadcast over an IP network. IP video servers have built-in software that allows users to connect to their cameras through a standard Internet Explorer web browser.
IP video servers can transform any analog CCTV camera into a network security camera and provide high-quality live streaming video, reliable record storage, and the convenience of remote viewing. They are the perfect solution for upgrades, or new system installations to improve your surveillance capabilities.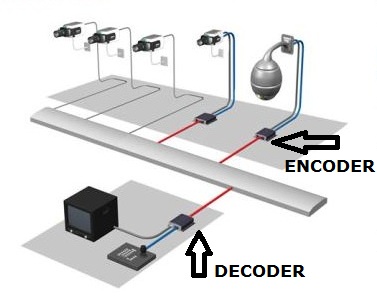 WHAT IS A VIDEO ENCODER?
A video encoder (also referred to as a video server) digitizes analog video signals and sends digital images directly over an IP network, such as a LAN, intranet, or Internet. It essentially turns an analog video system into a network video system and enables users to view live images using a Web browser or video management software on any local or remote computer on a network.
It allows authorized viewers from different locations to simultaneously access images from the same analog camera, as well as network cameras if they are added to the system.