SWING BARRIER SBT1000S SERIES SWING BARRIER SBT1000S SERIES
Swing Barrier makes it suitable for all users, including people with reduced mobility and wheelchair users, as well as facilitating the movement of goods deliveries.
It is designed to operate with either manual control using a momentary push button, remote control accessory, or using Access Control – readers are typically mounted on posts.
A swing barrier, also known as a swing gate, is a type of gate that is mounted on hinges and swings open and closed to allow or restrict access to a certain area. It is typically used as a security measure at the entrance to a building or property, and can be controlled manually or by an electronic system such as a card reader or keypad. Swing barriers can be made of various materials such as metal, wood or plastic, and are often used in conjunction with other security measures such as surveillance cameras and alarms.
---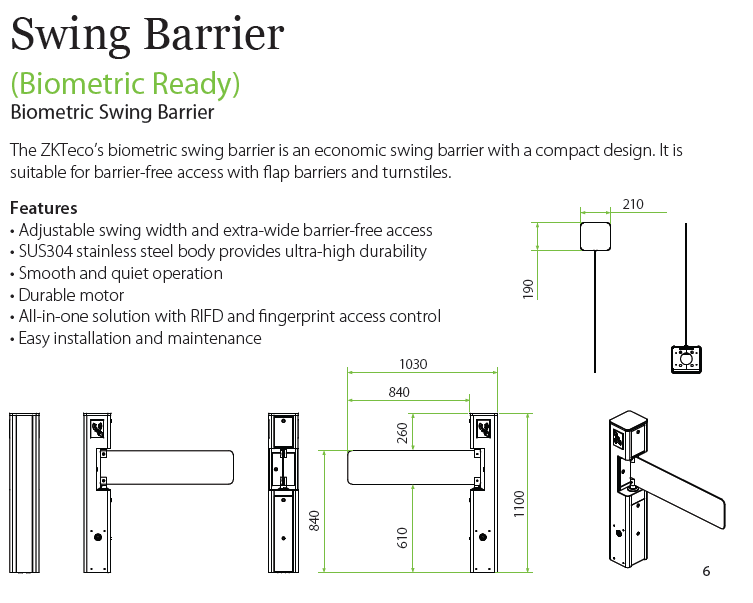 ---
Overview
The SBT1000S is a single-lane swing barrier turnstile series designed for smooth and silent operation and draws very little power. It's made of stainless steel which makes SBT1000S highly durable.
SBT1000S tempered-glass barriers are normally held in a locked position, thus denying access to the secured side. Upon SBT1000S's reader (RFID and/or fingerprint) positively recognizing a user's valid access card or fingerprint, its barriers swing automatically, thus allowing users passage to the secured side.
During emergencies and power outages, the barriers automatically swing, thereby ensuring users fast unencumbered exit to safety. This function is available during power off if the fire control board and battery are installed
SBT1000S provides both security and convenience, all in a very durable yet elegant compact design.
Function
Reliability
SUS304 stainless steel body provides ultra-high durability
High-quality electrical components
Safety Features
Barriers swing automatically during emergencies
Smooth and quiet operation and without exposed screws.
Durable electrical components
Ergonomic design allows card & fingerprint authentication faster & simpler for users.