 A manual call point (MCP) is a device that allows a person to manually initiate an alarm or emergency signal in a building or facility. It is typically located near exits or in other strategic areas, and can be activated by breaking a glass panel or pressing a button. The signal is then sent to a control panel or monitoring system, which can trigger a response from emergency personnel or security personnel. MCPs are commonly used in fire alarms and security systems.
People can often still detect a fire long before automatic fire detectors; hence manual call points are important components of fire detection systems in occupied buildings to ensure timely evacuation in the case of fire. All call points should be approved to EN54-11, and should be of type A, that is once the frangible element is broken or displace the alarm condition is automatic.
Manual Call points should be mounted on all escape routes, and at all exit points from the floors of a building to clear air. It should not be possible to leave the floor of a building without passing a manual call point, nor should it be necessary to deviate from any escape route in order to operate a manual call point.
Call points mounted at the exists from a floor may be mounted within the accommodation or on the stairwell. In multiple-storey buildings where phased evacuation is to be used call points should be mounted within the accommodation to avoid activation of call points on lower levels by people leaving the building.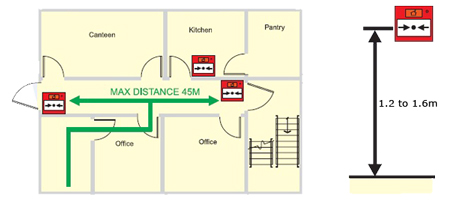 In order to provide easy access, call points should be mounted between 1.2 and 1.6m from the floor, and should be clearly visible and identifiable. The maximum distance anyone should have to travel in order to activate a manual call point is 45m, unless the building is occupied by people having limited mobility, or rapid fire development is likely, in which case the maximum travel distance should be reduced to 20m. Call points should also be sited in close proximity to specific hazards, for example, kitchens or paint spray booths.