DIGITAL SURVEILLANCE SYSTEM DIGITAL SURVEILLANCE SYSTEM
Digital Surveillance System – Dahua is a world-leading surveillance technology provider. With advanced video surveillance solutions, Dahua helps to protect families, businesses, and governments around the world.
SMARTPSS LITE | DIGITAL SURVEILLANCE SYSTEM
The SmartPSS Lite Client Software is designed to configure and manage Dahua devices such as IP cameras, recorders (NVRs, XVRs), access control devices (ASIs, ASCs, ASRs), and attendance management devices (ASAs). It provides multiple functionalities, including live view, smart search and playback, receiving of multiple events and alarms, unified personnel management, multi-period attendance, first card unlock, multi-card unlocks, anti-passback, and inter-door lock.
DSS PRO V8 – VIDEO MANAGEMENT SYSTEM
DSS Pro is a comprehensive and expandable Dahua VMS for flexible, scalable, reliable, and powerful central management. With client-server architecture, DSS Pro provides central management, information sharing, convenient connections, and multi-service cooperation. The software provides basic functions such as user permission management, device management, alarm management, and central storage, but also delivers advanced features of video wall and map configuration, access control features, video intercom, attendance, and analytic functions such as face detection and object detection. It also integrates add-ons such as business intelligence and traffic surveillance.
DSS EXPRESS
The DSS Express Video Management System is a powerful, all-in-one video surveillance management software for system scalability and reliability. The DSS Express supports up to 256 network cameras and 256 Video Intercom devices, with the ability to integrate multiple access or video intercom devices.
DSS Express provides user rights management, device management, alarm management, video wall output, and two-way audio. In addition to these VMS features, DSS Express offers advanced features, including support for real-time face recognition and robust event management controls.
DSS PRO VIDEO MANAGEMENT SYSTEM
DSS Pro v8 has seven applications for managing your security system: Monitoring Center for live viewing and playback; Event Center for real-time and historical events; DeepXplore for searching data faster; Access Management for access control, video intercom, visitor management, and attendance management; Maintenance Center for checking the health of the platform; Parking Lot for managing entrance and exit of vehicles; and Intelligent Analysis for business-related needs.
DSS Professional is a centralized management system designed to be used in various applications such as parks, chain stores, and logistics and can scale to future needs. The software supports up to 2,000 channels, 1,000 doors, and 400 TB storage capacity per server but can expand up to 20,000 channels and 4 PB storage capacity through a more distributed architecture.
For enterprise applications, its architecture supports hot standby and N + M redundancy enabling failover servers if the primary server goes offline. DSS Pro supports customized integration of other systems and devices such as SDK and API as well as ONVIF for integration with other 3rd party cameras on the market.
DIGITAL MOBILE SURVEILLANCE SYSTEM (DMSS) MOBILE APP
DMSS is a mobile surveillance application that includes alarm push functions and P2P discovery. The application is available for IOS devices (in the Apple App Store) and for Android devices (in the Google Play Store). DMSS offers an easy-to-use interface to quickly add Dahua devices, including network cameras, NVRs, HDCVI DVRs, Video intercoms, and alarms. The app also offers extended professional functions for these devices, such as Fisheye de-warping, pant/tilt/zoom control, and wiper activation.
SMARTPSS
SmartPSS is an all-in-one, full-featured video surveillance application that is ideal for small to mid-size business that needs to monitor people, premises, and assets. SmartPSS integrates all Dahua network cameras and storage devices into one intuitive, easy-to-use interface. The software provides efficient device management, video monitoring, playback, alarm, and analytic configuration, as well as video wall setup and preview.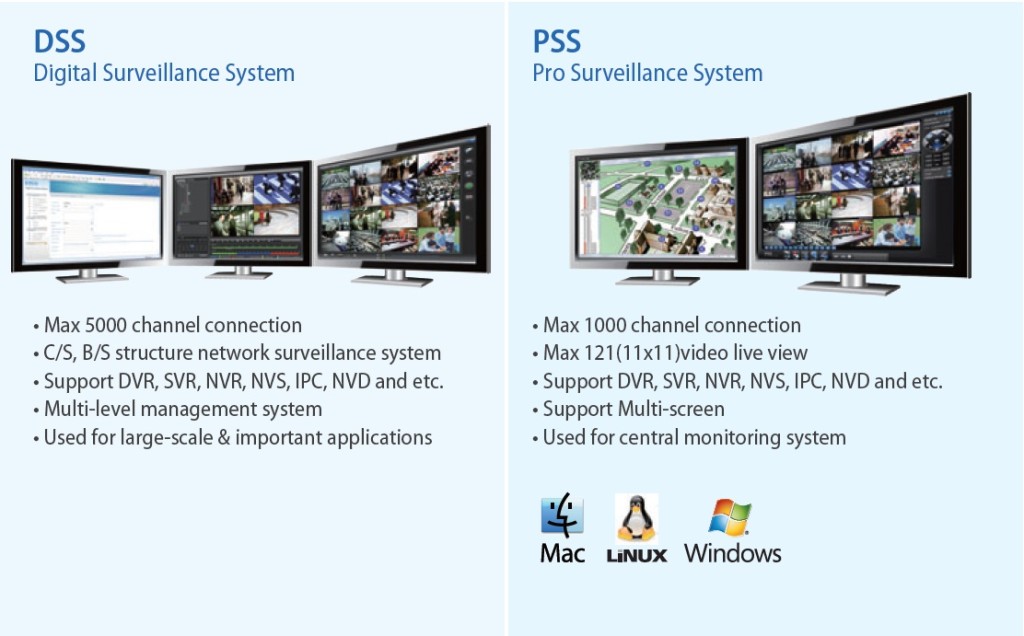 Digital Surveillance System | Pro Surveillance System